9/6KG, AI DIRECT DRIVE FRONT LOAD WASHER DRYER
AI DD™
Intelligent Care with 18% More Fabric Protection
Based on big data of accumulated washing experience, AI DD™ offers the most Optimized washing motion in order to care your laundry.
*Tested by Intertek on March 2019. Cotton cycle with 2kg of underwear compared to LG Conventional Cotton cycle(F4V9RWP2W vs. FC1450S2W). The results may be different depending on the clothes and environment..
*AI DD is available in 3 cycles.(Cotton, Mixed Fabric, Easy Care).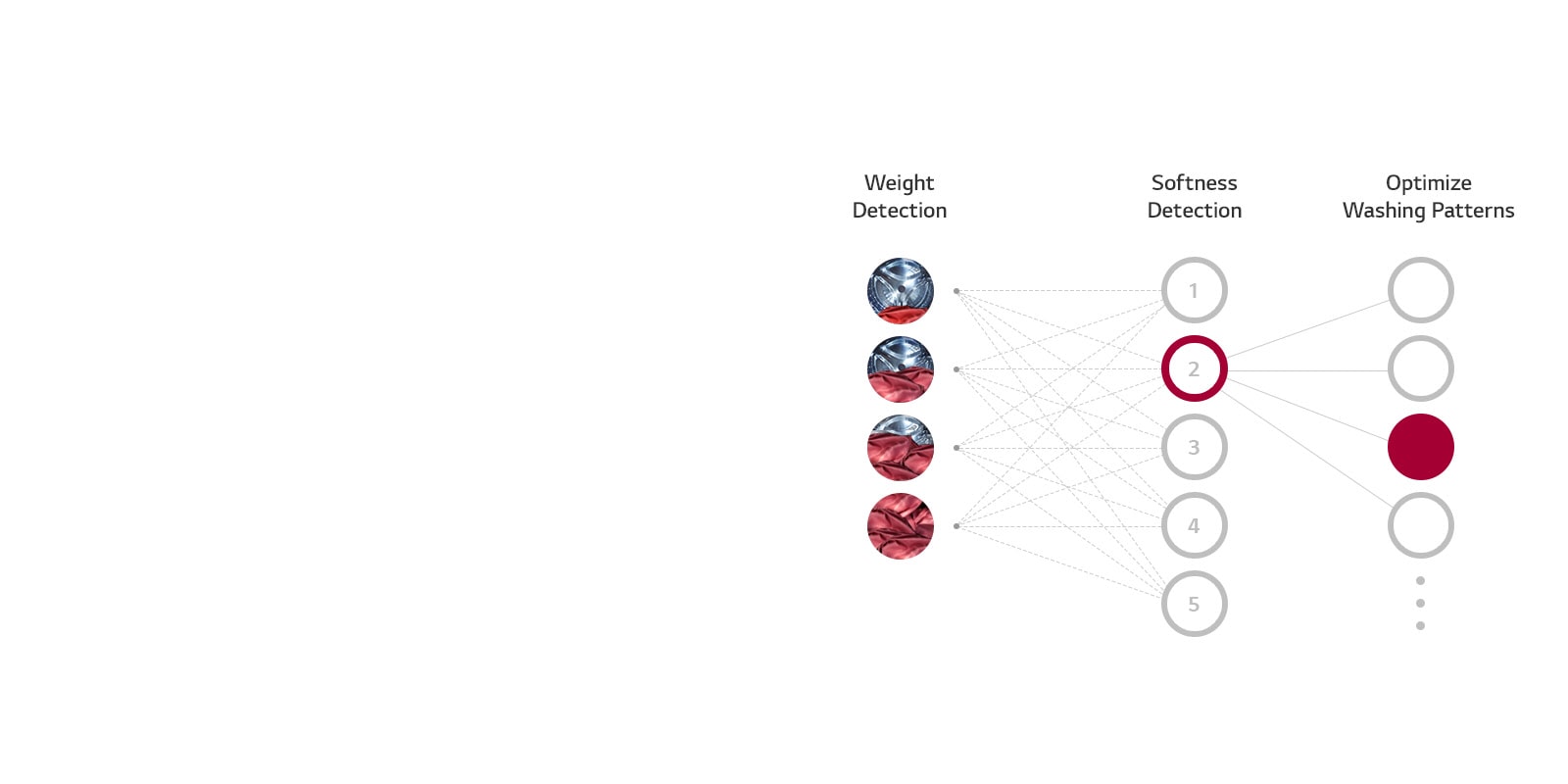 What is AI DD™?
The AI DD™ detects not only the weight, but also senses softness of fabric, and it chooses the optimal motions for the fabric by itself.
All in One
Washer and Dryer in One
LG's all-in-one washer and dryer is another of leading appliance technologies. Save space in your home and make more room for your family.
All in One
Save Time on Laundry, Plus Time for you
With LG all-in-one washer and dryer, You can enjoy the better time for your family without hassle.
*Tested by Intertek on July 2019, TurboWash59+Dry option with Mixed 4kg of laundry.
TurboWash™
Less Time, More Life
TurboWash™ technology cleans your clothes in 59 minutes. Spend less time on laundry and more time living!
Steam+™
Less Wrinkles, More Hygienic
LG Steam+™ technology eliminates 99.9% of allergens, such as dust mites that can cause allergy or respiratory issues with 30% less wrinkles.
**Allergy Care cycle certified by BAF (British Allergy Foundation) reduces 99.9% house dust mite allergen.
*Tested by Intertek on December 2018, based on AATCC standard. Cotton cycle with 'Wrinkle Care' option (3 mixed shirts) compared to Cotton cycle without option. The results may be different depending on the clothes and environment.
*Wrinkle Care is available as an option in 6 cycles.
30% Less Wrinkles
The wrinkles are formed during dehydration disappear through the steam during tumble motion.
99.9% Allergen Removal
Allergens reduced up to 99.9% by Steam.
Bigger Drum Size
Bigger Drum in the Same Space
Thanks to LG's advanced anti-vibration technologies, less space is needed inside to absorb the vibrations, thus allowing a bigger tub to be fitted for increased washing capacity within the same washer size.
Durability
More Durable and Hygienic Design
The Scratchproof tempered glass door is not only more durable than conventional plastic door but also provides a more elegant and classy look.
Stainless lifter helps more hygienic washing as it is stronger against contamination by bacteria than a conventional plastic lifter.
*Tested by Intertek on July 2013. Bactericidal effect for P.aeruginosa of stainless steel against initial amount in 12 days.
Design
More Visible and Elegant
Made a more visible display and increased the knob size with a metallic finish.
Compatibility
Available with TWINWash™ Mini
Plus a TWINWash™ Mini according to your preferences to suit your lifestyle and interior design needs. Save you time and money in your busy life.
ThinQ™
Smart Appliance
With ThinQ™ technology, your washer just got smarter from operating your laundry remotely to downloading additional cycle. Easily interact with it and access the latest innovations with Wi-Fi Connectivity.
*Google and Google Home are trademarks of Google LLC.
*LG SmartThinQ is now renamed as LG ThinQ.
*Smart features and voice assistant product may vary by country and model. Check with your local retailer or LG for service availability.
TYPE
TypeAI Direct Drive Front Load Washer Dryer


BASIC
Wash Capacity (KG)9Dry Capacity (KG)6

Max Spin Speed (RPM)1400


FEATURES
Inverter Direct Drive MotorYesAI Direct DriveYes

6 Motion TechnologyYesEco HybridYes

Steam+YesTurboWash (59mins)Yes

TwinwashYesChild LockYes

Embossing DrumYesTub CleanYes

Add ItemYesRemote StartYes

Time DelayYes


SMART FEATURES
ThinQ™ (WI-FI)YesSmart DiagnosisYes


WASH PROGRAMS
No. of Wash Programs14Wash ProgramsCotton, Cotton +, Mix (Mixed Fabric), Easy Care, Allergy Care, Steam Refresh, Speed14, Download Cycle (Default Rinse+Spin), Wash+Dry (WD only), Delicate, Wool (Hand / Wool), TurboWash 59, Dry Only, Tub Clean


WARRANTY
10-year Motor WarrantyYes
​

WATER EFFICIENCY
PUB Registration No.WM-2019/027994/TUVRating3 tick

Water Consumption8.1L/kg


DIMENSION
Width (mm)600Height (mm)850

Depth (mm)565Weight (kg)73

Depth with Door Open (D')620Depth from back cover to door (D")1100


DESIGN
ColorBlue WhiteDisplayWhite LED

DoorTempered GlassLifterStainless Steel
​
Motor 10 Years, Parts 3 Years and Service 1 Year Warranty